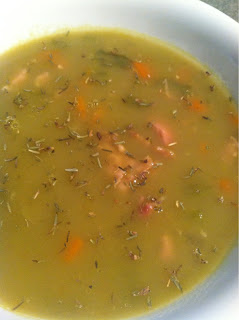 Split Pea and Ham Soup
Nothing says fall or winter comfort food like Split Pea Soup. We enjoy it year round. I make it about once a month, as ham hocks and shanks are readily available for a few dollars at grocery stores. Of course holiday ham bones are always saved and used.
2 cups of dried peas easily makes just over a 1/2 gallon of delicious soup for lunches or light suppers. I often serve soup and salad for dinner with bread, rolls, or corn bread.
I buy largest bag of dried peas I can find (bulk buying saves) and use to make on the stove top, but now use an electric *pressure cooker, a real time saver. This soup also freezes well.
Split Pea and Ham Soup
1 lb. dried split peas (2 cups)
1 meaty ham bone, 2 ham hocks, or shanks, or 1 lb. ham chunks
8 cups water or beef or chicken broth
2 bay leaves
1 tsp. minced garlic
1 medium onion, diced
2 carrots, sliced or diced. about a cup
2 celery ribs sliced, or diced, about 1cup
1 1/2 tsps. dried thyme
1 Tab. dried parsley
salt and pepper to taste
1/4 cup butter
1 cup of milk
sherry wine, optional
Rinse and soak peas overnight in 2-3 cups of water.
In large soup put all ingredients except carrots, butter, milk and sherry. Bring to boil, then turn down to simmer 1 and 1/2 hours. Remove bone and take off and shred meat, returning meat to soup. Add carrots and simmer 1/2 hour more until carrots are tender. Add butter and milk stirring to blend. Serve with a splash of sherry.
Note: measurements on the carrots, celery and onions don't have to be exact. Some in my family don't like carrots, so sometimes I've left them out. I've seen recipes where chopped bacon works well, too, if you don't have ham.
*Pressure Cooker Method:
Put all ingredients in cooker except butter, milk and sherry and process for 15 minutes. Remove bone, take off meat and return it to soup. Stir in milk, butter to blend, then serve with splash of sherry.
Electric Pressure Cookers are very safe these days, and process dried beans of all kinds in under 20 minutes, like magic!
Estimated Cost: $3.00 - $4.00; .40 cents or less per serving