A Mexican spice pack purchased several years ago came with a booklet of recipes to try, including "creamy green chili cheese enchiladas." I made them then experimented with adding chicken, and like them both ways.
Corn tortillas can be used, if first heated quickly on each side in oil to soften. I've also used flavored flour tortillas such as spinach or tomato; and low-carb wheat tortillas.
Whenever there's leftover roast chicken, I make these and serve with a salad, kidney bean salad in this case. If making without chicken, I usually serve Mexican Rice and refried beans for a "homemade"combo plate."
Cheese Enchiladas with Creamy Green Chili Sauce
1 package 6-inch flour tortillas - a dozen, or 6 large burrito size
3 cups shredded Monterey Jack, or Cheddar cheese
1/2 cup diced onion
1/4 cup butter or margarine
1/4 cup flour
2 cups chicken broth
1 cup sour scream
2 4 oz. cans diced green chilies
1 1/2 to 2 cups of shredded chicken can also be added.
Warm tortillas so they don't crack and roll easily when filled, then set aside. I heat for like 30 seconds or less in the microwave and cover with a towel.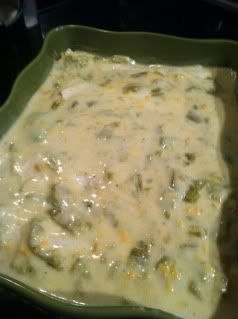 Combine 1-1/2 cups cheese, onion (and shredded chicken if using) and distribute among tortillas, roll up and place seam side down in sprayed 9x12 baking dish.
Sauce: melt butter; blend in flour until cooked. Add broth stirring constantly until thick and bubbly. Stir in sour cream, peppers and 1/2 cup cheese. Cook until heated through, but do not boil. Pour over tortillas and bake at 425 for 20 minutes. Sprinkle remaining 1 cup of cheese on top and return to oven for 5 minutes or until cheese is melted. Serve with salsa and/or sour cream.
Enchilada Combo Plate
When cooking for two, I make the sauce, using enough for the two of us, then freeze the rest in cup size containers, defrost and reheat for the next time I want to make a few enchiladas instead of a dozen. If making a large batch, leftovers freeze well.

This sauce is also delicious over sauteed chicken breasts or pork chops.
Serves 6 to 8

Estimate cost: $1.25 or less per serving